Alessandra d'Urso was born in Milan in 1978. She studied photography at the International Center of Photography and film at the New York Film Academy.
Upon her graduation she moved to Paris and worked for the Magnum Agency as an intern. 
She spent the following years traveling around the world producing stories about social issues for different magazines, projects and exhibitions.
She lives and works in Paris.
Her work has appeared in Vogue Paris, Vanity Fair, Purple Magazine, Officiel Paris, Officiel Italia, Officiel Art, Marie-Claire, Nowness, Purple Diary, D della Repubblica, Next liberation among others and she has been working for clients such as Louis Vuitton, Amazon, Ray Ban, Roger Vivier, Ines de la Fressange and Each x Other.
Books:
"For Friends" 2016 (Steidl) a body of work commissioned by Louis Vuitton 
"Jubileum" 2017 (Steidl) an artistic reportage of the 2015–16 Jubilee of Mercy.
"Primordiale"  2014 a metaphysical trip into botanical Garden of Palermo, where the smallest details evoke the greatness of Nature
Solo Exhibitions (selection):
Jubileum, Galleria Nazionale Arte Moderna, Roma (2017); 
For friends, Espace Culturel Louis Vuitton, Paris (2016); 
Primordiale, Museo Riso, Palermo (2014); 
A body split in two will never sleep, Nuke Gallery, Paris (2014)
"Hospites" Fondazione Arnaldo Pomodoro, Milano (2010)
"Rising sun in Twantay", Italian Embassy, Yangon (2009)
"Wave to reaction" MiCamera, Milano (2008)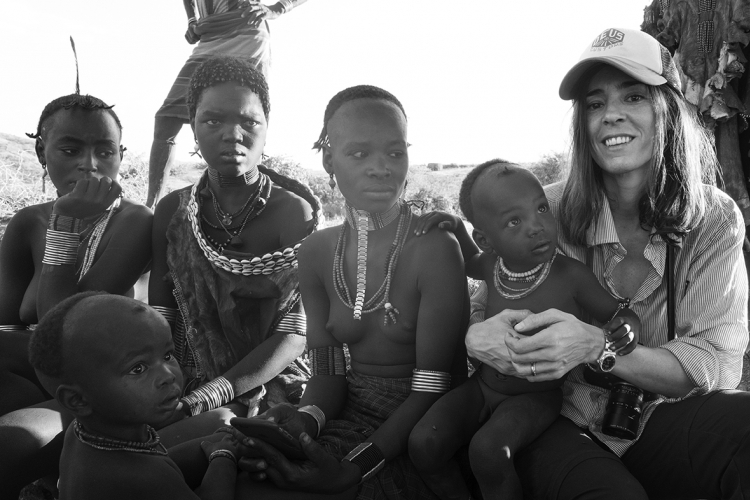 "For me, photography is a way to understand and accept the world. It's a constant research of truth. It's an "excuse" to travel and to meet the most incredible people. Light is fundamental. Everything is transformed by light. I see the world in black and white. By eliminating colour I can focus on shadow and texture... I take things away in order to put them elsewhere, in order to get closer to their substance."